Pinterest can be an amazing platform to market your blog and increase traffic. However, if you're unfamiliar with how to use Pinterest for marketing for bloggers, it can be difficult to know where to start. This helpful guide will show you how to create a successful Pinterest marketing strategy for your blog. Whether you're just starting out on Pinterest or trying to improve your current Pinterest marketing strategy, this Pinterest marketing for bloggers guide has you covered!
Pin it for later!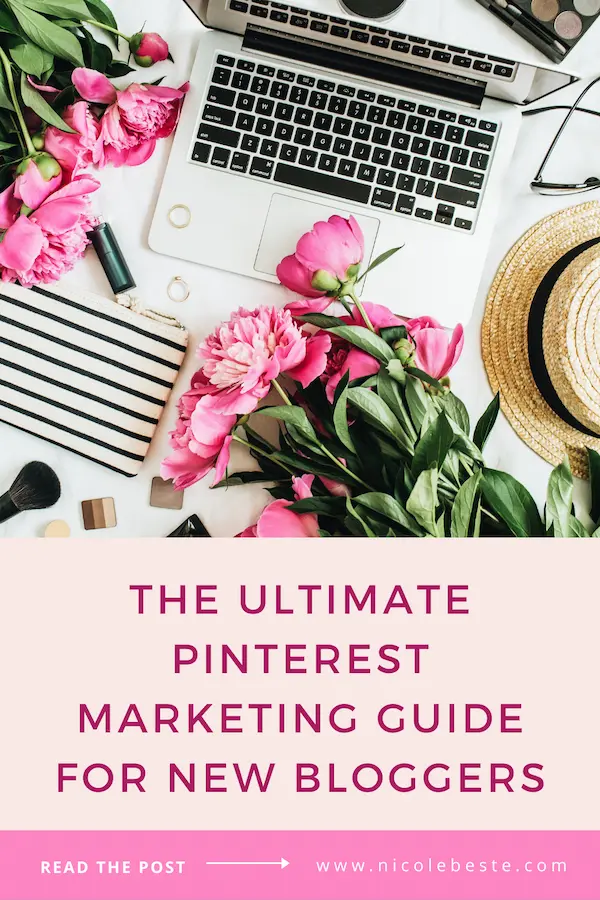 Pinterest Marketing for Bloggers
What is Pinterest, and how can it help your blog grow?
Pinterest is a visual search engine that allows users to share images and videos. It can be a great way to promote your blog by sharing engaging content that links back to your site. Pinterest can also help increase traffic to your blog by making it easier for people to find your content.
If you're new to Pinterest, there are some important first steps you must take to grow your account and see results from Pinterest.
It's also important to note that because Pinterest is a search engine, not a social media platform, it takes a long time to see results. But if you stay consistent and patient, and follow these tips to get started, then you will start to see growth.
Creating a Business Pinterest Account
Firstly, you must have a Pinterest business account. This will allow you to claim your website, create pins, and view your analytics. If you've been using Pinterest for personal use, you can convert your Pinterest account for business. If you'd rather keep your business separate, then you can create a new business account. It is okay to have two Pinterest accounts.
Optimize Your Pinterest Account
Secondly, to create a successful Pinterest marketing strategy, you must optimize your Pinterest business account. To do this, you must first perform keyword research and create an account that is optimized for Pinterest's search algorithm. Basically, you need to use keywords in your profile name and bio, board titles and descriptions, and pin titles and descriptions to tell Pinterest what our content and account will be about.
This will help the search algorithm understand quicker who to show your content to, based on the keywords and account optimization.
Not sure how to do keyword research? Read my post: How to do Pinterest SEO Research.
Your profile should include:
A clear and concise bio with keywords
Your website URL and make sure you claim your domain to get a complete look at your Pinterest analytics
Personal boards that have optimized titles and board descriptions
If you need more help getting your business account ready, read my post: How to Optimize your Pinterest Account.
What type of boards should I create?
Your Pinterest boards should fit into 1 of 2 categories or types of boards:
Ones that work with your content and blog posts OR
Ones that don't fit with your content but would be of additional interest to your ideal audience
For example, suppose you have a mom or parenting blog. In that case, you could create additional boards of interest to your audience, even if you don't necessarily have content or blog posts that fit that board title, such as – Funny Parenting Memes, Birthday Party Ideas for Kids, Fun Kid Food Ideas, etc.
You can have many Pinterest boards, but when you're starting out, ten is a great start.
Pin it for later!
Stay Consistent and Create Fresh Content
Pinterest loves fresh content (pins), so it's essential to create new pin designs regularly—even for older blog posts. You also want to stay consistent with your pinning schedule and strategy. It's important to remember that Pinterest is a long-term strategy, so don't get discouraged if you don't see massive results right away. Older pins tend to do better since they've had more time to get engagement, so your new pins need time to get old. It will take at least six months for your accoungt to see consistent growth, but if you follow these tips and stay consistent with pinning, you will see results!
When it comes to creating fresh content for Pinterest, be sure to mix up the types of pins you make. You should have a variety of:
Static pins
Video pins
Idea pins
Every Pinterest account is different, so you will have to test (and give it a few months) to see what works for you. This will help you determine what type of content performs best on Pinterest and help you to understand what your audience is most interested in seeing from you.
If you'd like to work together on your Pinterest strategy, make sure to check out my Pinterest Services page for more information. I offer a wide range of Pinterest services, from one-time setup to monthly packages.
I hope this guide helped you get started with Pinterest marketing for your blog! Have any questions, email me at nicole@nicolebeste.com
Let's connect!