As a business owner, you might wonder which platform is best to showcase your business or services. You only have so much time, so you'll want to spend it where you'll get results. My rule of thumb is, if you have something people are searching for, then you should use Pinterest for business!
Pin it for later!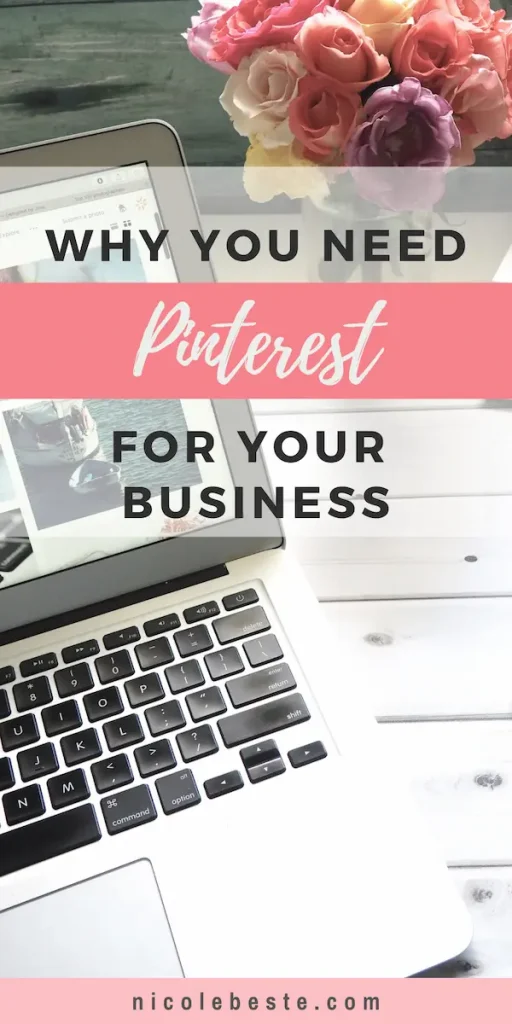 Why use Pinterest for Business?
Using Pinterest for Business Will Help You Reach Your Audience and Your Goals
It goes without saying, you want to get in front of your target audience. If you want them to be aware of your brand and how you can solve a problem they have, or if you want to sell your products or services, you must show up where they are. Chances are, your ideal customers are on Pinterest. Therefore, you should use Pinterest for your business.
Your business should use Pinterest if your goals include:
Product sales
Affiliate marketing
Finding students for your online course
Coaching services
E-commerce sales
Etsy shop sales
Blog views
Brand awareness
Growing your email list
So, Pinterest is for EVERY business?
I'm biased and think every business should be on Pinterest; however, there are some that aren't as good a fit. Businesses without a website, for example, won't have any URLs to pin to. Local businesses that don't ship their products everywhere might not benefit, because Pinterest is not location specific.
How Many People Use Pinterest? And Who Are They?
Pinterest Users Continue to Rise
There are 444 million people using Pinterest. That number has been increasing month-over-month. As people leave social media platforms in doves, there are more people on Pinterest all the time. You might wonder who all these pinners are, and if they are your audience.
Here's the breakdown:
Over 60% of Pinterest users are women. These are the decision makers in the family. Women were the first to hop on the pinning bandwagon, and we're still going strong.
Male Pinterest users are up 40% year-over-year.
Gen Z users are up 40% year-over-year.
Millennial users are up 35% year-over-year.
45% of people using Pinterest have an income over $100k.
Pins Link to Your Content
Pinterest is the platform to get in front of your audience, because it is not social media. It's a visual search engine, like Google with eye-catching images. That is to say, when people click on your pins, they link directly to the post or product. In other words, there's no need to write 'link in bio' on your pin descriptions and then hope they find what they're looking for. They can click through to learn about the valuable content or product you offer. They can pin it to a board to save for later—and they will actually be able to find it later.
People are on Pinterest to look for inspiration, new ideas, start new projects, find solutions to problems, and plan their next purchases. Moreover, Pinners are still in the consideration and deciding phase. An astounding 97% of Pinterest searches are unbranded and users are open to trying new brands, and 80% of Pinners have tried a new product they found on Pinterest. Pinners are planning their next purchases, and they spend more money there than on all other social media sites combined.
If you want the chance at finding new customers who are open to giving your brand a chance, you should use Pinterest for your business!
Pinterest is Positive
It's no secret that social media sites can be negative. It's the best place to go to compare your life to that of your friends and feel like you're coming up short. Even Snapchat can make you feel like you were left out. Another source of negativity is the news. News Feeds are full of bad news, which causes stress. This is especially prevalent during election years. When a brand is next to negative content, people assume the brand has endorsed it.
There is no doom scrolling on Pinterest. Their research has found:
"Negative environments make people less likely to remember, less likely to trust and less likely to purchase from brands."
You haven't seen the founders of Pinterest in front of Congress, because they have taken action to moderate their content. They stopped allowing political ads in 2018, and they launched authoritative search results for Covid-19 in 2020. In addition, they have been proactive with their Community Guidelines, which sets clear and strict guidelines for what is not allowed on the platform.
Pinterest is a positive place for Pinners, and for your brand.
Pin it for later!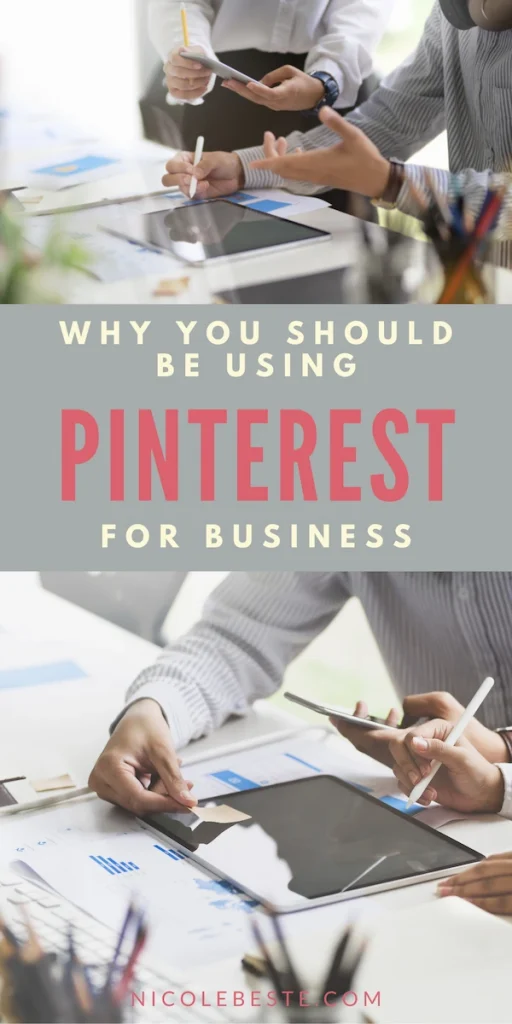 Pinterest works faster than Google
As a search engine, Pinterest will bring you traffic in 4-6 months, whereas Google will take 9 months. Pinterest SEO is easier than Google SEO. Not only that, but Pinterest can help you rank on Google!
Pinterest doesn't require constant engagement
Other social media platforms want you to spend time on their sites every day. To make their algorithms happy, it's important to engage with your audience. But with Pinterest, content can be scheduled out 2-4 weeks in advance, or even later. So theres's no need to check in every day. Set it and forget it! (But don't really forget it, the hungry monster needs more fresh pins!)
You also don't need a lot of followers on Pinterest as long as you use keywords properly. Keep in mind, it takes 5-6 weeks for Pinterest to index your pins. So you won't get quick results like Instagram or TicTok. But unlike social media, where your post can get buried within hours, pins last forever and can keep ranking in relevant searches
What kind of sales can be expected from Pinterest?
Pinterest will not give you sales, it will bring you traffic. Your website will do the selling. A pin is not a full sales funnel. It will get people interested in your content or product. No one can guarantee specific results because an algorithm is involved. Pinterest can update it at any time (and does!). Things that work now might not work in the future. Sometimes Google de-indexes Pinterest searches. Seasonal content won't get the same traffic all year round. Search habits change. Just think of 2020.
On second thought, let's not.
Do you have to have a blog?
No! You don't need a blog. It's never a bad idea to blog to inform customers to help their decision-making process, but it is not necessary to have a blog to use Pinterest for your business.
Conclusion
As you can see, Pinterest can be hugely beneficial for driving traffic to your website or blog. It is the best way to get in front of your audience while they plan for their lives. To get started, learn how to convert a personal Pinterest Account to a business account.
If you want to take advantage of the power of Pinterest, but don't know where to start or don't have time, you can hire a Pinterest manager to do it all for you! Check out my Pinterest Service Packages.
Follow me!