There are so many social media platforms out there these days, it seems like Pinterest is just one of many. But is Pinterest social media? Can you connect with people like you can on Instagram or Facebook?
Pinterest is often grouped with other social media, but should it? When you read a blog post or check out a product, you're asked to share the post and follow all their social accounts. A Pinterest share button is usually among the other social share buttons. However, Pinterest is not social media.
Pinterest is a visual search engine.
It's not a place people go to socialize. It's where they discover and find things. It's more like Google than social media, with pretty images.
Pinners don't use the platform to catch up with friends and family or to have conversations. People are on Pinterest to find ideas and start projects. They are there for inspiration. That is to say, they are planning their lives and are still in the decision-making phase.
Pin it for later!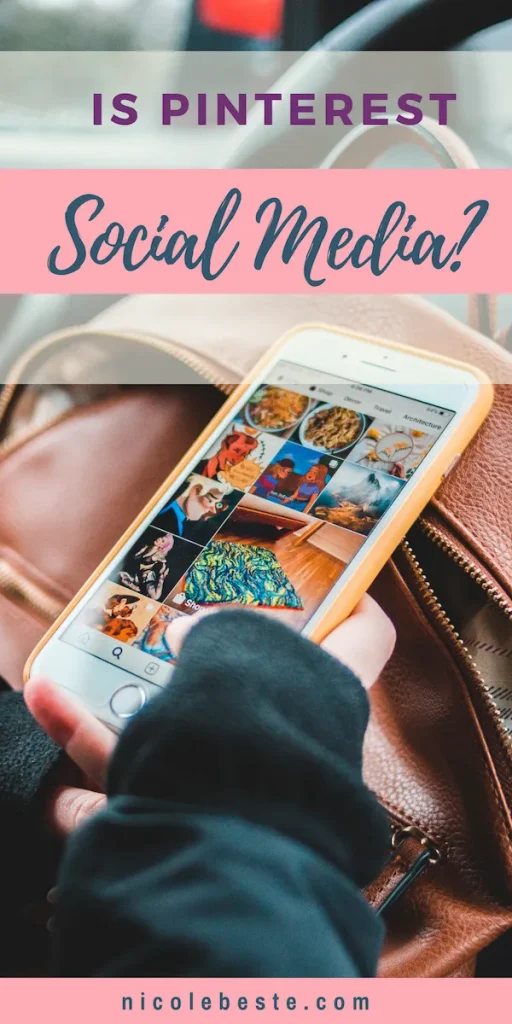 Pinterest is Not Social Media!
If you're using Pinterest for business (which you should be!), you don't have to worry about getting on the platform every day to engage and reply to comments. You don't have to rack up 'likes' and followers, either. If your pins are getting low impressions and low engagement, it's okay, because you can still rank later (ranking is good, it's what you want!).
Pinterest is faster than Google, but it is still a slow burn, so you won't get quick results like you can with social media, but when you do, the results will be lasting. Social media posts get buried within hours, but pins live forever!
Pinterest Strategy
To reiterate one more time, Pinterest differs from social media, therefore it requires a different strategy. If you create a business account and pin once from your blog post or product page, you won't get a lot of results. There's more that goes into a good Pinterest strategy. The two major components are keywords and fresh pins.
Keywords
Good keywording starts with SEO research, like you would with Google. If you aren't using keywords that people are looking for on your account and pins, people will not find you. You must use the words people are looking for. They are not looking for you specifically. The vast majority of searches are unbranded. Keywords are essential to getting found.
To have a well-optimized account, keywords belong everywhere, from the top down:
Account name

Bio

Board titles

Board descriptions

Pin titles

Pin descriptions

Pin headings

Pin file names

Blog titles

Blog urls
Fresh Pins
Pinterest has an insatiable hunger for fresh pins. Users were tired of seeing the same pins over and over in their feeds, so Pinterest adjusted their algorithm to prioritize fresh pins, or new pin images. Pins saved to multiple boards (or re-pins) get suppressed. It's helpful to pin new URLs as well, but you can definitely pin to old content.
It can be tempting to treat Pinterest like Instagram (think cohesive, uniform layout), and use the same fonts and colors in all your pins, but Pinterest doesn't want all your pins to look the same. This is to say, you should mix things up to find out what people like. I know we've all been told use use our brand colors on all social media posts, but fight that urge when creating pins. That isn't what Pinterest wants.
And keep in mind, beauty is in the eye of the beholder. For instance, Pinners might not like pins you think are pretty. They might go for designs or colors you find ugly. That's okay, it happens. Give them what they want.
Pinterest is Better than Social Media
There, I said it. It's getting harder to get organic traffic from social media sites because they'd like for you to pay for ads. Instagram captions don't link to your website, so all of your posts end with 'link in bio' and you just have to hope people follow through and find your blog post. Moreover, you can't sell in IG stories until you have 10k followers.
Unlike social media, you don't have to have a lot of followers to reach people on Pinterest. If you have what people are looking for and use keywords properly, you can reach your audience for free. It's still possible to get organic traffic without paying for ads.
Consistency is Key
Pinterest wants you to pin consistently. Specifically, you should pin multiple times a day. Don't worry, you don't have to be on the platform all day. You can schedule your pins out with their native scheduler or with Tailwind. You can schedule it out for a week or two, and even further if you use Tailwind. There's no need to engage every day. You don't have to worry about likes and replying to comments. Therefore, Pinterest is the perfect place for introverts—users and business owners!
As I mentioned in my post, Why Use Pinterest for Business, you'll know Pinterest is positive. People are there for inspiration, not to catch up on all the bad news in the world, or argue about politics. There's an endless scroll, but nothing that would cause mental distress. I've never heard anyone say they're taking a break from Pinterest, or that they deleted the app from their phone. I can't say the same for Facebook.
Pin it for later!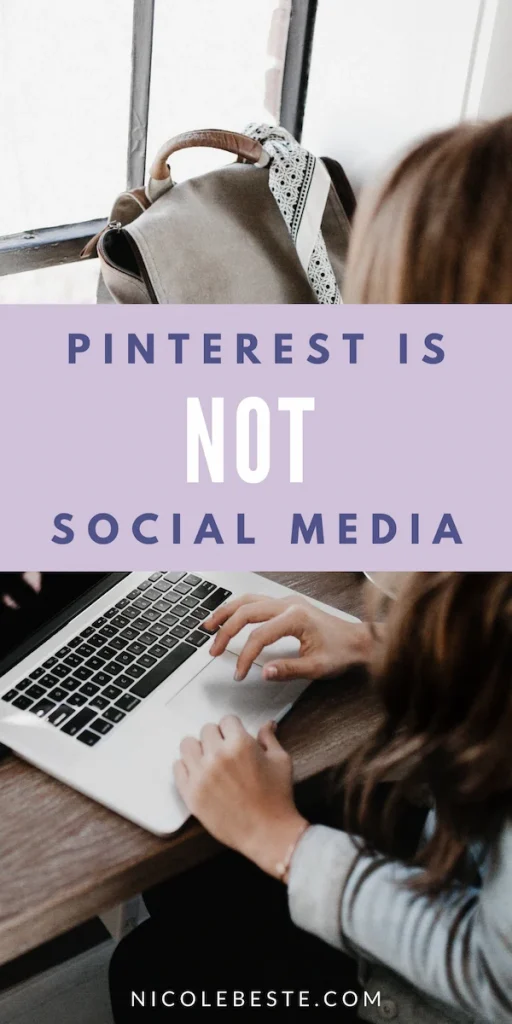 How long will it take to get results from Pinterest?
Pinterest takes time.
It's important to remember that Pinterest is a slow burn. It can get you traffic faster than Google, but you will not see quick success. If you have a new account, then you will not see results in a month. But don't give up! You will not get results in a few weeks, or even a couple months. This can be frustrating, especially if you've outsourced management to a Pinterest VA or manager. It will take 4-6 months to start seeing results. Additionally, it takes around 6 weeks for Pinterest to index your pins, even for established accounts. Just be patient and keep pinning!
Conclusion
In conclusion, Pinterest is not social media. It is the best platform to reach your target audience. Pinners are in a positive space, they are open to your brand, and pins link directly to your website. You're missing out if you aren't using this amazing platform. If you'd like to use Pinterest for your business but would rather outsource to an expert who studies and thinks about Pinterest every day, check out my Pinterest Service Packages.
Follow me!