Pinterest is one of the fastest-growing platforms out there. Since it's a visual search engine, pin descriptions are a crucial element of any pin. If you want to grow your audience on Pinterest, then pin descriptions are an absolute must for your strategy. With so many people using Pinterest for inspiration and planning their lives, pin descriptions help ensure that your ideal audience sees your pins in the proper context. In this blog post, I'll discuss how to write Pinterest pin descriptions and how it can help promote engagement with potential customers!
This article may contain affiliate links, which means if you make a purchase through the link, I get a small percentage at no additional charge to you. See my Disclosure Policy for more info.
Pin it for later!
Why Pin Descriptions Are So Important:
Writing Pinterest pin descriptions containing relevant keywords is important for two reasons:
1) It helps the Pinterest algorithm understand what your pin is about
2) It helps your audience find your content because you are using the keywords they are searching for; this is optimization
As a visual search engine, your pin designs are what generates interest and get people clicking on your pin, but the pin description is how it gets shown to them. That's why keyword-optimized pin descriptions are such an important part of a great Pinterest strategy.
Change Up Your Pin Descriptions:
If you are creating 3-5 pin designs for each new blog post or piece of content, you ideally want to craft a new pin description with each pin design. This is because you likely have many keywords you want to use, and using them all in one pin description would be spammy. So, vary those keywords out by tweaking your pin descriptions a bit for each pin.
For example, with this post, maybe I want to target one pin description that goes to this point with the keywords "Pinterest marketing tips" and then the next one with "Pinterest marketing hacks." I can write one optimized pin description and then tweak the keywords slightly. You don't always want to target only five keywords, so change things up a bit!
Pin descriptions don't have to be long, two to four sentences is sufficient. Avoid keyword stuffing, as this will look spammy. If writing descriptions trip you up, a resource I love to use is the Pin Descriptions Prompt swipe file from LeVee Road Studio. With over 30 prompts to get you started, you won't have any trouble cranking out well-written pin descriptions!
What about Hashtags?
Previously, using hashtags in pin descriptions was best practice. However, Pinterest customer support has recommended to stop using them because spammers abused them. If you create a new account or convert your personal account for business, you may receive an email from Pinterest that recommends hashtags. This is old information. Don't use hashtags.
Finding Pinterest Keywords:
I've mentioned keywords a lot with all of this talk about writing the perfectly optimized pin description. But, how do you find the perfect keywords to use in your descriptions?
There are a lot of methods for doing Pinterest keyword research, and you can read four of the best ways to do SEO Research for Pinterest, but here are two of my favorites:
1) Manual Research Using the Pinterest Search Bar
Make sure the search bar is set to 'All Pins' first as it usually defaults to 'Your Pins' and then just start typing. You can make a note of any relevant keywords that drop down and make sense for your content.
2) Pinterest Trends Tool
You can also use the Pinterest Trends Tool to perform keyword research and see how phrases and keywords are currently trending with their search volume.
Google Sheets is a great place to store all of your keywords. List keywords across the top and list all of the keyword phrases, or long-tailed keywords, under the main keywords.
Now that you know how to write keyword optimized Pin descriptions, learn how to batch create Pins for Pinterest!
Grow Your Pinterest Account:
Want more help with your Pinterest optimization and marketing strategy? Visit my Pinterest Services page to learn how I help clients tap into the power of Pinterest.
Pin it for later!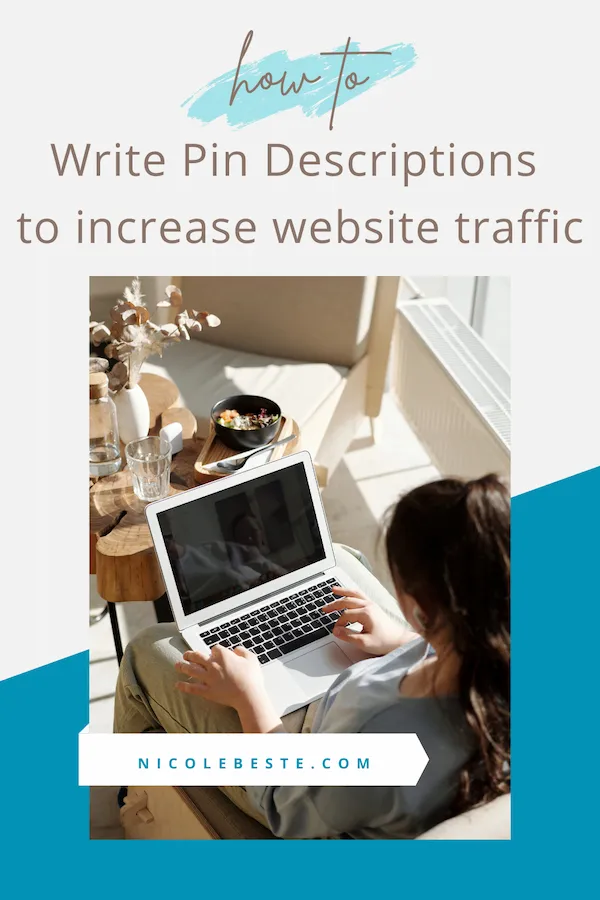 Follow me!