Have you considered hiring a Pinterest manager, but aren't sure what Pinterest management packages they offer?
A Pinterest manager specializes in keeping up with the platform your audience can find your content or products. If you've already considered hiring a Pinterest manager, the first step you may have taken was to visit some websites to check out their Pinterest management packages and pricing . . . but pretty soon found yourself down a rabbit hole. Do you even need every service in a package?
Pinterest management packages vary from one manager to the next, consequently the prices can be all over the place. This post will explain Pinterest management services in detail.
Pin it for later!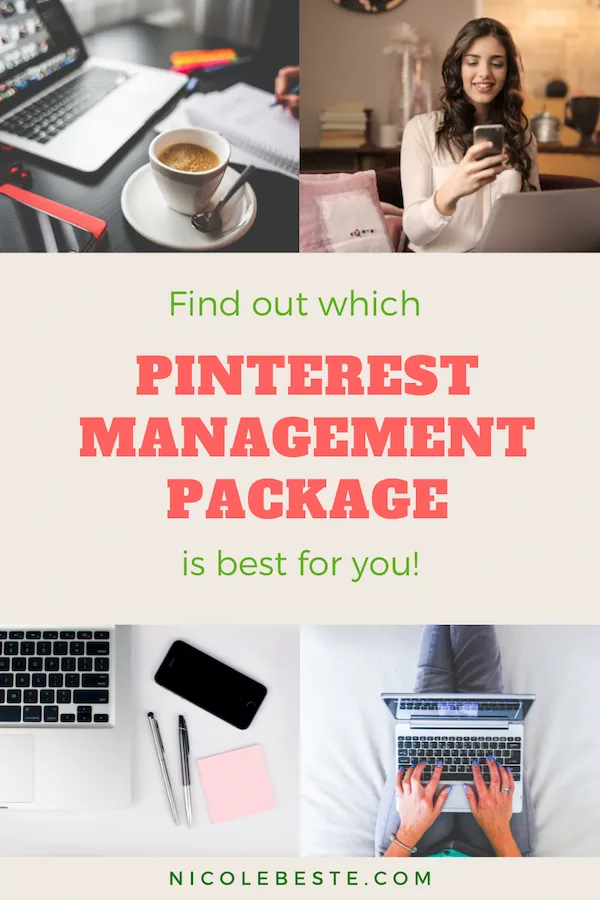 What Pinterest Management Packages are there?
Common Pinterest management packages are account optimization, monthly management, and pin design. This post will help explain the packages so you can figure out which is best for you!
Account optimization refers to search engine optimization, or SEO. Since Pinterest is not social media, but a search engine, it is very important to use keywords, which is to say, words that people are searching for—on every aspect of your account. This is the first step that MUST take place before monthly management can start, whether you're managing your own account or hiring someone to do it.
Pinterest Business Account Set Up & Optimization
This is for anyone who doesn't have a business account on Pinterest and is therefore starting from scratch. It's vital that you have a business account because it allows you to claim your website, create pins, gives you access to analytics, and allows you to run ads.
Pinterest Account Audit & Clean Up
An Pinterest account audit is the same as an account set up, except you already have an existing account that needs to be cleaned up to prepare it for monthly management. Off-niche boards won't help your account, so the Pinterest manager will make them secret or archive. They will also analyze any group boards you're in, and leave any that are irrelevant or aren't performing well.
Both packages include the following services:
SEO research

Claim and verify website

Enable Rich Pins

Add keyword-rich name and bio

Find and follow accounts in your niche

Create 10 boards with optimized titles and descriptions

Save curated pins to new boards

Group Board Requests

Tailwind Set Up
Following other accounts and saving third party pins (which might sound counterintuitive) helps Pinterest get to know you faster. Likewise, saving pins to multiple boards gives Pinterest more chances to learn about your pins. That is to say, Pinterest is a slow learner, as a result we have to make it as easy for the robots as possible!
Price
$400-$600 USD, plus the cost of a Tailwind subscription.
Prices vary depending on the experience level of the Pinterest manager, and how robust the package is.
But what if I skip the Tailwind subscription, will that save money?
No, not if you're outsourcing monthly management. Manual pinning takes more time, so instead of paying for the Tailwind subscription, you will end up paying more for the Pinterest manager to manually pin from the native scheduler.
Monthly Pinterest Management
This is where package details will differ more from one manager to the next. The platform changes and managers get experience working with clients, consequently, packages are tailored to those changing needs. Many managers offer two or three monthly packages. The major differences in the packages and pricing comes down to the number of fresh pins being created and scheduled per month. The number of fresh pins you need will depend on how much content or products you have.
Common monthly management tasks include:
Daily pinning on Tailwind

Fresh pin creation

Keyword-rich titles and descriptions for fresh pins

Add new boards or optimize existing boards

Join Tailwind Communities

Join Group boards

Monthly analytics
Pinterest put HUGE emphasis on fresh pins after the 2020 update. The algorithm now prioritizes fresh pins, so a Pinterest manager will continuously create and schedule fresh pins leading to your content.
Some Pinterest Management packages might include pin descriptions and some might not, instead offering it as an add-on. There are managers who have packages that don't include pin creation for clients who prefer to handle that part of the management process.
Price
$300-$1000 USD
Whoa, why such a discrepancy?
Experience and package size. A newer manager will charge less than an established Pinterest manager. A more robust package with more pin creation will cost more.
Pin it for later!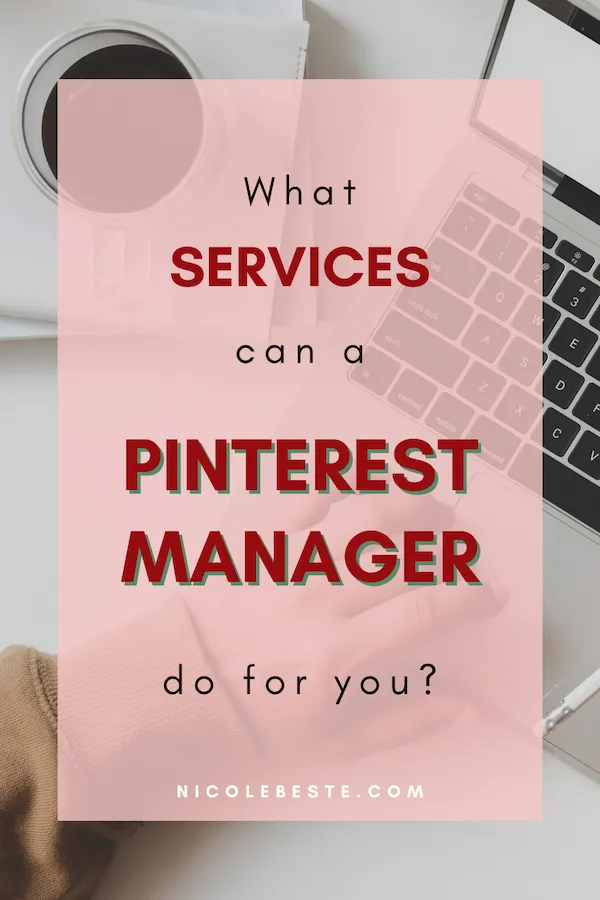 Pin Design Packages
If you handle your own account management, but don't have time (or the desire) to create fresh pins every week, most Pinterest managers offer Pin design packages. The going rate is $5 per pin. This is just for the design, if you want an optimized pin with headings, titles, and descriptions, that will require SEO research and will take more time, so the price will be more.
Additional Services & Fees
There are smaller fees that aren't usually mentioned on the Pinterest management packages page. These include image searches if you don't have specific images for pins, image use if you don't have a stock photo membership, pin optimization, and board covers.
I keep mentioning Tailwind, but you've heard it's better to avoid it.
I've heard that advice too, but I follow a very smart practicing Pinterest manager, Amy LeBlanc. She does a lot of research and experiments, reads the Pinterest Engineering Blog, and then shares it with the students. I wasn't confident about offering Pinterest management services before I found her.
There is a way to make all your pins appear fresh without paying someone to design loads of new pins every month, and then manually pin them. The price really adds up, and it isn't necessary. There is a solution to this, and it requires Tailwind.
Conclusion
To sum up, Pinterest management packages vary from one manager to the next. We offer the services we enjoy doing, and will do the tasks that will help grow your account and bring you traffic. We charge according to package size and experience level. Typical Pinterest management packages are:
Pinterest

Account Set Up

Pinterest

Account Audit

Monthly Pinterest Management

Pin Design
If you're ready to take the leap, take a look at my Pinterest Services.